Pass.ru >> Reseller.pass.ru >> Импорт / Управление скинами
---
Импорт / Управление скинами
С главной страницы панели управления реселлерским аккаунтом нажмите иконку "Import / Manage Skins"("Импорт / Управление скинами").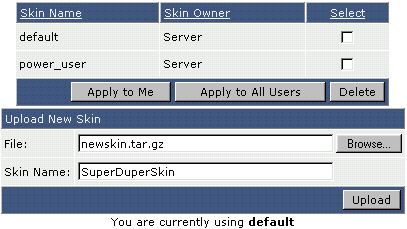 По умолчанию аккаунты идут с двумя скинами: default (графический интерфейс) и power_user (текстовый интерфейс).
Загрузка скинов
To upload a skin, click the "Browse" button and locate the file on your hard drive. Skins files take the form of skin-name.tar.gz. Second, type in a name for your skin (do not use spaces or special characters). Third, click the "Upload" button. The new skin should appear in the above table after the upload is finished.
Manually Uploading Skins
If you cannot upload a skin via the web-based file transfer, you can install the skin manually:
1. Extract the skin file on your hard drive (keep the directory structure intact). Skip this step if using SSH.
2. Make a /skins folder in your /home/username directory (the first directory you see when you FTP in).
3. Make a folder for the skin, and this folder will be the skin name.
4. Upload the extracted files to the directory named after the skin, keeping the directory structure intact.
If using SSH, decompress the files to this directory.
e.g. Upload to /home/username/skins/mygreatskin/<skin files>
Applying Skins
To apply a skin (make it the current, active skin) check the box next to the skin you want to apply and then click the "Apply to Me" button or "Apply to All Users" button. If you apply the skin to yourself, only you will see the new interface. Clicking "Apply to All Users" button will make the skin default for all your Users (they will now see the new skin when they use the control panel.
Note: Custom skins can be designed for User only, User and Reseller only, or User, Reseller, and Admin.
Applying Skins to Individual Users
To apply skins to individual users, click the "List / Modify" accounts button from the main Reseller menu. Then, click "Modify User <username>. At the bottom of the screen, select the skin you want the User to see and click "Save."
Deleting Skins
To delete a skin, place a check next to the skin you want to delete and click the "Delete" button. Please note you cannot delete skins owned by the Server. You must be the Skin Owner to delete a skin.
Note: If you delete a skin that is in use by your Users, they will automatically be set to the server default theme.
Writing Skins
Посетите http://www.directadmin.com/skins.html для того, чтобы научиться писать собственные скины к DirectAdmin.
с замечаниями и предложениями обращайтесь
в компанию AlterHost